The Real Cost of Cheese 07/21/11
It's not just lamb and beef that you should be avoiding, the environmental impact of cheese is surprisingly high.
---
Who knew that eating cheese was almost as bad for the environment as lamb and beef?  For those vegetarians who cut out meat from their diet for environmental reasons, a new report by the US based Environmental Working Group (EWG) in conjunction with CleanMetrics suggests that cheese is not going to help your green cause in the slightest.
Unlike other studies that usually focus on production emissions, their assessment looked at the entire "cradle-to-grave" carbon footprint of 20 types of popular meat including fish, dairy and vegetable proteins. (The study is US based and looks at conventionally farmed food, the bulk of food consumed in America).
The carbon footprint that emerges after the investigation into the total lifecycle is base d on "the greenhouse gas (GHG) emissions generated before and after the food leaves the farm – from the pesticides and fertilizer used to grow animal feed all the way through the grazing, animal raising, processing, transportation, cooking and, finally, disposal of unused food."
What emerged is that not all meats have the same impact on the environment.  Lamb, beef, cheese, pork and farmed salmon were some of the most environmentally heavy foods that you could consume. Vegetarians who cite the environment as their primary motivation will have to be aware that their cheese habit is worse than they thought.
The report also found that: "Meat, eggs and dairy products that are certified organic, humane and/or grass-fed are generally the least environmentally damaging. Overall, these products are the least harmful, most ethical choices. In some cases, grass-fed and pasture-raised products have also been shown to be more nutritious and carry less risk of bacterial contamination."
The question of knowing what goes into your food is supremely important. Buying the cheapest items you can in the supermarket has a much higher cost than we generally like to admit. While many of us may feel powerless to make a difference, choosing what you put into your body is something that we all have control over. Choose organic, choose local, and make sure that whenever you can, you know what has gone into the meal on your place.
And in first place for greenness? Lentils and tomatoes! A winning combination!
For more information, take a look at the EWG's fantastic  Meat Eater's Guide to Climate Change + Health which aims to encourage people to make positive food choices for the environment and their bodies.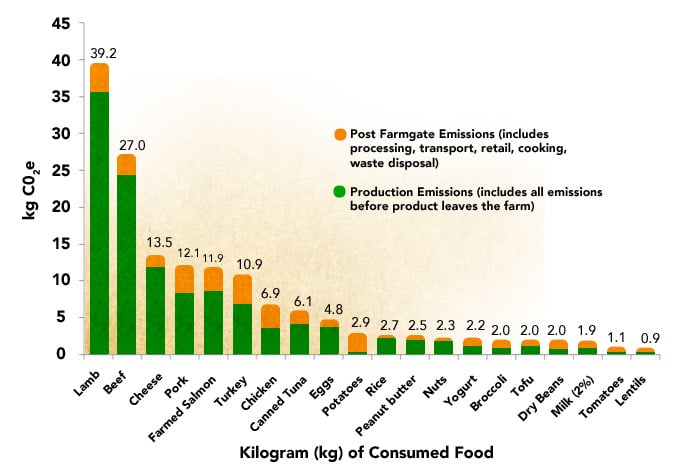 Related posts:
---